Discount Maui Jim Kanaha -Cheap Maui Jim Sunglasses
Buy Maui Jim Kanaha sunglasses and get authentic Maui Jim sport sunglasses at massive discounts. Quality polarized sunglasses cheap!
Cheap Maui Jim Sport Sunglasses
These reasonably cheap designer sunglasses are the perfect answer to your needs when it comes to keep your eyes protected from the sun. These lightweight and durable sunglasses are made with tough polycarbonate polarized lenses that provide you with crystal clear optics that keep your eyes free from glare in any outdoor situation.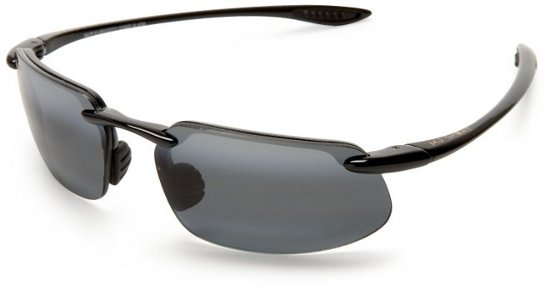 Maui Jim Review, Activewear sunglasses
There are a number of great product features that make these glasses a great choice for all your outdoor activity. Perhaps the first thing that you will notice is that they are made with the Grilamid frame which is lightweight, durable, and built to last.
Maui Jim Kanaha Sunglasses
The polycarbonate lenses are ultra tough and large enough to cover your entire range of vision, but no so large that they look too big for your face. The lenses also extend around to the corner of the eye which means that no part of your viewing area is left uncovered.
Maui Jim Polarized Sunglasses
Not only are the lenses of these polarized sunglasses extremely thin and durable, but they also provide a great deal of protection for your eyes. They provide protection from ultraviolet rays and also prevent sever glare that is often experienced in bright sunlight. And if that wasn't enough, you also are able to enjoy the convenience of polarization as well, which helps make your outdoor viewing experience even more crystal clear.
When it comes to comfort these discounted Maui Jim Sport Sunglasses are hard to top because of the ultra soft and comfortable rubber nose and arm pads that they come equipped with. You'll hardly be able to tell that you are even wearing the sunglasses due to the combination of the lightweight frame and soft pads that allow the glasses to sit gently on your face.
These Maui Jim sport sunglasses are available in three different colors including gloss black frame with bronze lens, gloss black frame with grey lens, and tortoise with grey lens. A protective hard case is also included with every set of glasses that are purchased.
Discount Maui Jim Kanaha sunglasses - Product Features & Specifications
Frame: Grilamid
Hinge Type: Metal
Lens: Polycarbonate
Interchangeable Lens: No
Polarized: Yes
Face Size: Medium
Case Type: Hard
Nose Pads: Rubber
Arm Pads: Rubber
Maui Jim sunglasses repair and Maui Jim Warranty: 2 Years
Recommended Use: Activewear sunglasses, sports, casual
Country of Origin: Japan
Shipping Weight: 4 pounds
These realtively cheap designer sunglasses can be worn anywhere including outdoor sporting events or a casual every day beach outings. Maui Jim Kanaha Sunglasses are the perfect solution in any outdoor situation or as general activewear sunglasses.
Maui Jim Kanaha Sunglasses
Look for sunglasses at Amazon. Very often they have some crazy prices or designer discounts. Can work out very cheap.